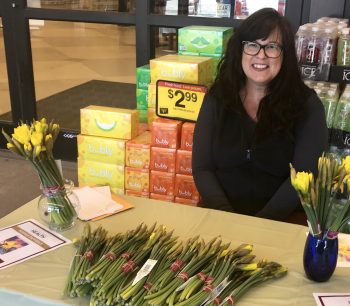 Thank you to all residents, businesses and volunteers who participated in our 2018 Hospice Daffodils fundraiser. This is the first year we held this fundraiser in Grand County, and we couldn't be happier with its success. It is a testament to your kindness and compassion and the tremendous community support for patients and families who benefit from our hospice care.
We are proud to have provided home health and hospice services in Grand County since 2015. We've built an experienced team dedicated to providing compassionate end of life care in their home town communities.  All proceeds from Hospice Daffodils go directly to this program, which services all patients who request our care. In many cases, expenses such as medications, equipment and bereavement support – available to families for a year following their loved one's passing – fall short of insurance reimbursement and patients' ability to pay. Community support through fundraisers and donations helps ensure we have skilled staff and resources and that patients are able to spend their final days in peace, comfort and dignity.
We want to extend a special thank you to our hospice volunteers and staff, who sold daffodils to local businesses and were incredibly enthusiastic in bringing Hospice Daffodils to Grand County. This fundraiser would not have been possible without you.
Sincerely,
Stephanie Einfeld
CEO Northwest Colorado Health