By Tamera Manzanares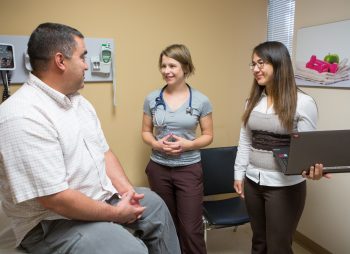 A doctor diagnoses a patient with diabetes. The patient is overwhelmed by physical symptoms and disheartened by fear, worry and sadness. The prospect of making life adjustments to manage her disease seems insurmountable. Another patient complains of sleep problems. He's recently experienced a major loss and the resulting stress and anxiety is affecting his work and ability to enjoy outdoor activities and exercise. He's started smoking again and is not eating healthy.
These situations seem different, but both show how the dynamics between physical and emotional health can affect a person's wellbeing. This understanding is the basis of the integrated health approach at Northwest Colorado Health's clinics in Craig and Steamboat Springs, where teams of health care providers, dental providers and behavioral health specialists address patients' often complex symptoms under one roof. The goal is simple – remove financial, language and other barriers, including stigma sometimes associated with mental health support, to help patients get the health care they need.
Lilia Luna is a clinical psychologist at Northwest Colorado Health. She and her team of behavioral health specialists work closely with medical and dental providers and a psychiatric nurse practitioner – available through the organization's telepsychiatry program – to help patients with chronic stress, anxiety, depression and other mental health symptoms contributing to larger health issues. "We are expanding people's idea of what behavioral and emotional health is," she said. "It doesn't exist on an island. The more we can integrate the concept that your emotional health is part of your overall health, the less stigma there will be and the more people will access our services."
More than 1,000 patients utilized Northwest Colorado Health's behavioral health services in Steamboat Springs and Craig last year. If a doctor thinks a patient may benefit from behavioral health support, they can often meet with a specialist during that same visit. They can also receive up to six behavioral health follow up appointments.  Just like medical care, dental needs can have an emotional health component. Behavioral health specialists also work with dental providers at Northwest Colorado Health to help patients coping with confidence issues related to their oral health, or anxiety about receiving dental care. Behavioral health providers work with patients of all ages and use various screening methods to help identify problems, provide support and, if needed, make recommendations for higher levels of care.
Having on-site mental health support is an opportunity to open up difficult conversations that people might not have otherwise, Luna said. The timeliness of this support and affordability – it's available to all patients, regardless of ability to pay – improves the chances of helping them at a critical time of need. "I believe we are reaching people struggling with thoughts of suicide or depression earlier, treating them earlier, and referring them to resources that will help them heal," she said.
Patients who have specialized medication needs can consult with a telepsychiatry provider. Northwest Colorado Health provides a private room and secure technology for videoconference appointments. The psychiatric nurse practitioner works with the patient's behavioral health specialist and doctor to coordinate a medication management plan.
See more information about behavioral health services and view a list of crisis resources.